With more and more businesses marketing online, the competition is stronger than ever. (Credit: cottonbro // Pexels) Pandemic or not, marketing your business on social media platforms will only benefit you — as long as you budget correctly.  In light of the new year ahead, we're sharing some tips for small businesses looking to expand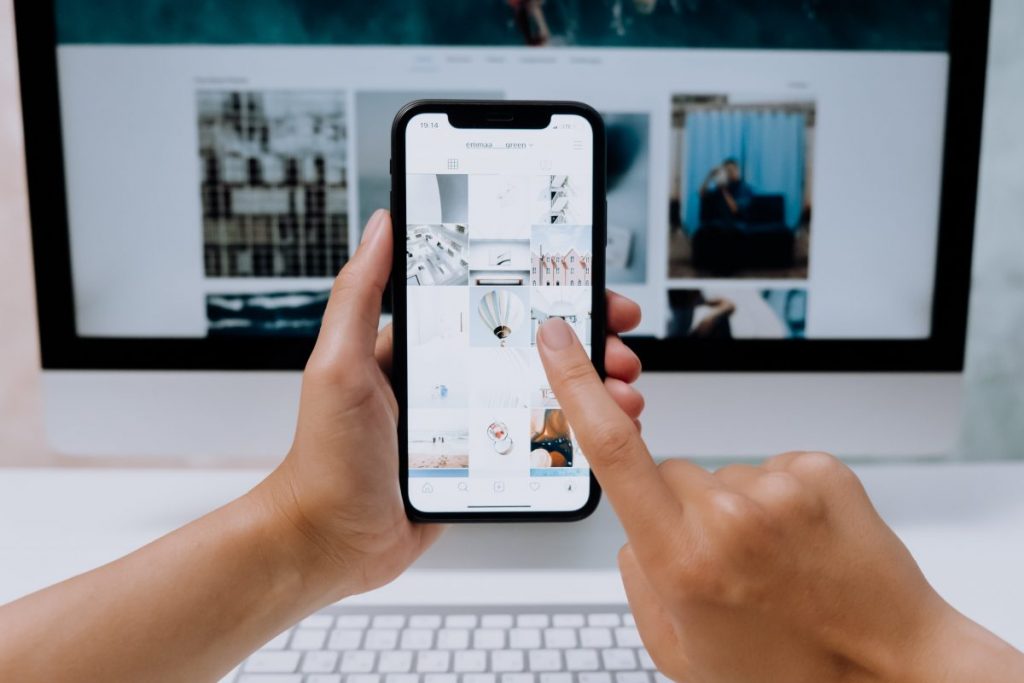 Pandemic or not, marketing your business on social media platforms will only benefit you — as long as you budget correctly.
In light of the new year ahead, we're sharing some tips for small businesses looking to expand their reach through social media platforms. And while most of these trends are nothing new, learning how to master them will be the golden ticket to becoming marketing mavens.
According to a 2022 Social Trends study conducted by Hootsuite, the "smartest brands in 2022 will tap into creator communities to learn more about customers, simplify content creation and build brand awareness and affinity."
1. Practice "Social Listening"
Hootsuite cites "social listening" — analyzing who's talking about your brand and what they're saying — as a key tool for effective marketing. Social listening isn't just about monitoring data (shares, likes, engagement) around your brand, but actively listening and interpreting people's conversations about your products and services, along with your industry as a whole. Once you know what people are asking for, you can develop a stronger marketing strategy.
But how do you track all the buzz about your business, especially if you're running multiple social media platforms? Several companies, such as Mention or Falcon.io, offer social listening tools that collect data every single time your brand or industry, or a relevant keyword, is mentioned online. Some companies offer basic plans for free, while others charge hundreds of dollars. This HubSpot guide lays out some of the best-rated social listening tools and how much each one costs.
2. Get Into Paid Advertising
Frustration around small businesses marketing on Facebook and Instagram (which was bought by Facebook in 2012) may have increased, but these platforms aren't going away anytime soon. Facebook had a whopping 2.9 billion monthly active users in 2021, and, according to CEO Mark Zuckerberg, 200 million businesses (mostly small businesses) make use of the sites' free tools to reach customers.
But unless the Instagram algorithm plays into your favor — which it won't, if you don't have thousands of followers who actively engage with your content — marketing on these platforms will cost you money. According to Hootsuite, the average organic reach for a Facebook post is 5.2%, meaning "only 5% of your followers may ever see your posts if you don't put any paid budget behind them."
Paid advertising is easy to budget, but the more money you spend, the more likely it is that your content will be seen.
3. Outsource Creators
Influencers have been making noise — the industry was forecasted to be worth nearly $14 billion in 2021 — and they're likely here to stay.
Each influencer has their own set of rules and rates, but it's best to set aside a budget if you intend to collaborate with a creator. The days of exchanging free goods and services for a shoutout on Instagram are well behind us, although some influencers might still be open to it. Most collaborations, especially for small businesses, require some sort of payment to the creators.
But how do you collaborate with creators who sometimes have hundreds of thousands of followers? You have to find your niche, and then you find a creator who has the same niche. From Potter-Heads to fashionistas, there's an influencer out there for every kind of business. Some platforms like IZEA can connect you with creators, or you can try your luck reaching out via email or direct message.
4. It's High Time … Make a TikTok
Last year, we told you to get creative with TikTok. We hope you listened, because the 5-year-old social media platform hit 1 billion monthly active users in 2021, making it the fastest-growing social platform in history.
Many small businesses attribute their success to TikTok. One example is Nectar, a hard seltzer company that ended up going viral after they made a self-deprecating "brew fail" video that featured a popular Drake song. The company saw a huge boost in sales afterwards, the founders told Business Insider.
What could go viral on TikTok can only be determined by the algorithm gods, but experts recommend using multiple hashtags, making videos with songs that are trending and keeping the videos short but enticing.
Besides making videos, influencer marketing is just as "influential" on TikTok. Sometimes all it takes is one person raving about your product to go viral.
5. Take Advantage of Evolving Tech
Social media platforms do offer tools that can make your job easier, but you need to know about them first.
For e-commerce, Instagram has made all sponsored posts shoppable in the app, meaning someone can just click on a pair of jeans in a tagged photo and buy them. TikTok has begun testing for in-app purchases, too.
Twitter recently announced Super Follow, a monetized feature that allows users to charge followers in exchange for exclusive content. The feature is intended especially for activists, journalists, gamers and creators on the platform. The company also offers Spaces, a platform where you can host live audio-only conversations, along with Ticketed Spaces, where you can charge people for tuning in to these live events. LinkedIn also hopped on the WFH bandwagon and started facilitating live video streams.
Whether you're a small e-commerce business, a fitness instructor or the publisher of a new publication, there's a tool out there for you. It's only a matter of getting acquainted and comfortable with the resources.